Who is this course for
Nutrition is a science, but its application is an art, and our Level 4 qualification in Nutrition Coaching seeks to help you bridge the gap between the two. This online nutrition course is ideal for current coaches to upskill, for anyone who is looking to move into nutrition coaching as a job or side project, or for anyone looking for the next level in nutrition mastery.
You'll learn about nutrition, of course, but on top of that you'll also be given the skills and support you need to work with real people, in the real world, and truly make a difference in their lives. Spanning 12 months and four bespoke textbooks, this online course is taught by dieticians, sports nutritionists, university lecturers, psychologists, GB athletes and experienced coaches, ensuring that the information you're given isn't just evidence based, but practically relevant to you and everyone you coach.
No prior knowledge is necessary, though we strongly recommend you check out the BTN Foundation Academy if you've never studied nutrition before. We're available globally and can accommodate people from any time zone, all you need is a passion to master nutrition and the art of coaching.
Features and benefits
Know how to work with a diverse range of clients, with completely different goals
Massively improve client adherence using the science of behaviour change
Truly master the anatomy, physiology and endocrinology relevant to nutrition
Improve your client communication, helping you to navigate client barriers
Learn how to properly monitor consistency and adherence over time
Develop ways in which you can provide accountability, mentorship, and support to the client's you coach
Be able to assess nutrition clients effectively and efficiently
Be able to set clients up for long-term, sustainable success
Increase your critical thinking skills, so you can keep progressing long after you graduate
Join the BTN community, a group of coaches committed to changing lives
Learn around work and home life, in your own time
Gain a Level 4 qualification in Nutrition Coaching
The Practical Academy is now closed. Please drop your details below to discuss the course and secure a place for the November 19 intake.

FAQs
How long will it take?
The course will take 12 months to complete. You learn on a week to week basis, invovling 3-5 hours per week.
How will it affect my career?
This course allows you to be insured to practice and work as a nutrition coach, both online and offline, as you will have a Level 4 qualification in Nutrition Coaching through Active IQ.

Is this a qualification?
Yes – the official course title is "The Active IQ Level 4 Qualification in Nutrition Coaching", which sits on the Regulated Qualifications Framework at level 4, making it a level above the Level 3 Personal Trainer Qualification.

Can I do this in my own time?
The course requires 3-5 hours per week and it's important for you to stay up to date with your learning, but falling behind a week or two then catching up is no problem. Each module can be completed at any time during the week, in multiple parts if you need.

What if I miss the webinars?
The webinars are held at 11am on Tuesdays, but they are recorded and available later for you to watch if you're unable to tune in.

Do I need to do the Foundation Academy first?
If you have never studied nutrition before then yes we recommend you do, to master the fundamentals first before we teach more advanced topics. If you have studied nutrition before and feel competent with the topics taught on the Foundation Academy then you can enrol directly into the practical Academy. If you're still unsure, book a call with us to chat it over via our 'talk to us' page.

Can it be done outside of the UK?
Yes, we have worked with students in every continent barring Antarctica!

Can I view your accredited paperwork?
Can I view the full course syllabus in detail?
When does the next course start?
The BTN practical Academy opens its doors in May and November. The 13th May 2019 is our next course start date, so ensure you enrol before that date to join the next cohort.

Modules
Module 1: The science of nutrition coaching
Lesson 1: Course introduction/What is evidence based practice?
Lesson 2: What is health?
Lesson 3: Critical thinking
Lesson 4: Reading research - What do we need?
Lesson 5: The digestive system
Lesson 6: The fasted and fed states
Lesson 7: Energy production and protein synthesis
Lesson 8: Coaching weight loss - The stages of change
Lesson 9: Coaching weight loss - Barriers and addiction
Module 2: The art of nutrition coaching
Lesson 10: Coaching weight loss - Nutritional programming
Lesson 11: Case study - Weight loss client
Lesson 12: Nutritional strageties to maximise hypertrophy
Lesson 13: Effective consultations
Lesson 14: Tracking and monitoring body composition
Lesson 15: Tracking and monitoring nutrient intakes
Lesson 16: Effective online coaching
Lesson 17: Food environment and habits
Lesson 18: Group online weight loss coaching
Lesson 19: Stress and your clients' progress
Lesson 20: Motivational interviewing
Lesson 21: Alcohol
Lesson 22: Case study - Shift worker
Lesson 23: Evidence based nutrition for endurance sports
Lesson 24: Assisted athletes
Module 3: Coaching performance
Lesson 25: Team sports nutrition
Lesson 26: Coaching bodybuilding competition preparation
Lesson 27: Nutritional considerations for making weight
Lesson 28: Female clients
Lesson 29: Pre and post natal clients
Module 4: Coaching specific populations
Lesson 30: Case study - Crossfit athlete
Lesson 31: Intermittent fasting
Lesson 32: Child nutrition
Lesson 33: Helping clients with diabetes
Lesson 34: Helping clients with PCOS
Lesson 35: Injury recovery nutrition
Lesson 36: Ketogenic dieting
Lesson 37: Allergy, intolerances and the immune system
Lesson 38: IBS
Lesson 39: Plant based nutrition
Lesson 40: Elderly clients
Lesson 41: Eating disorders in the fitness industry
Lesson 42: Case study - PCOS
Lesson 43: Case study - Female client with multiple barriers
Lesson 44: Exam preparation/Final Q&A
What our Practical Academy students say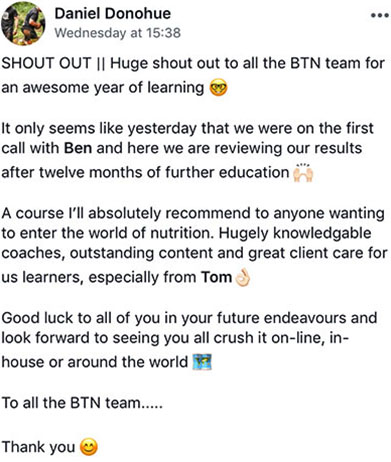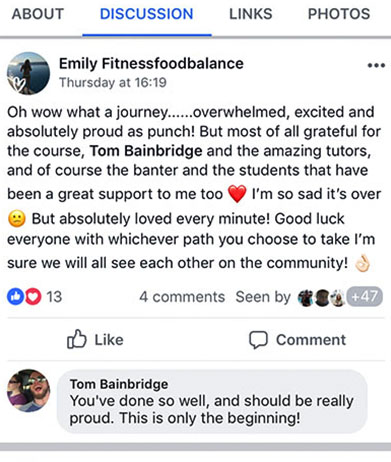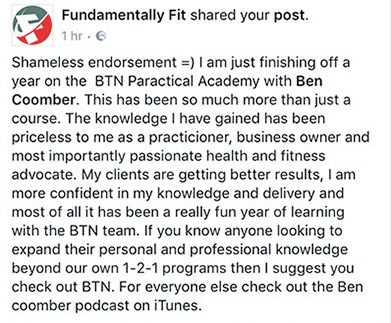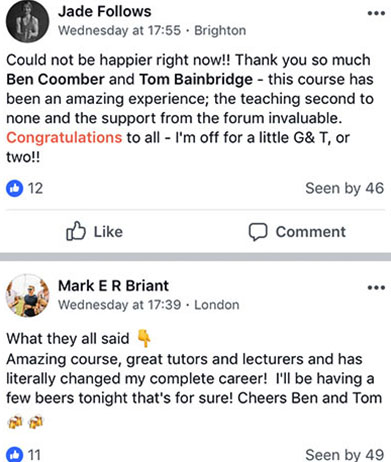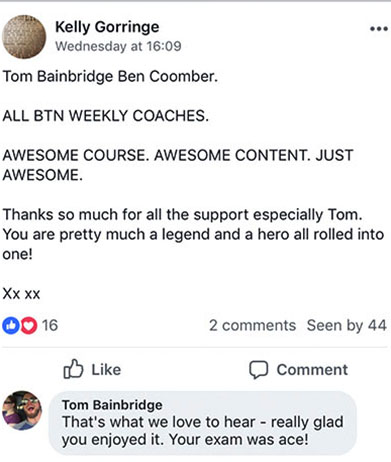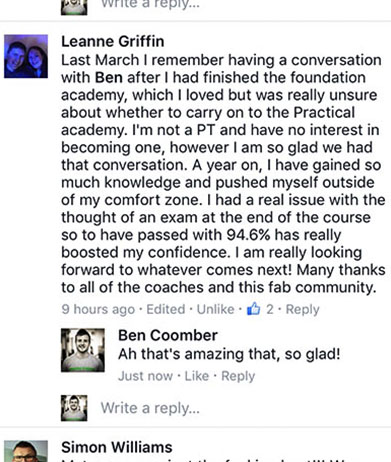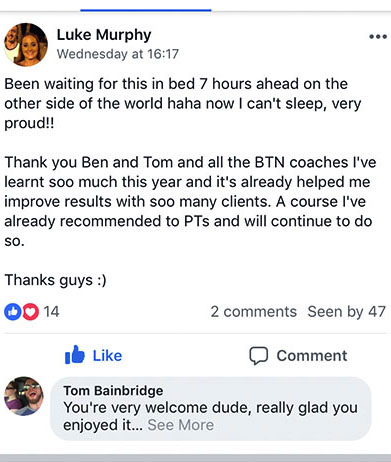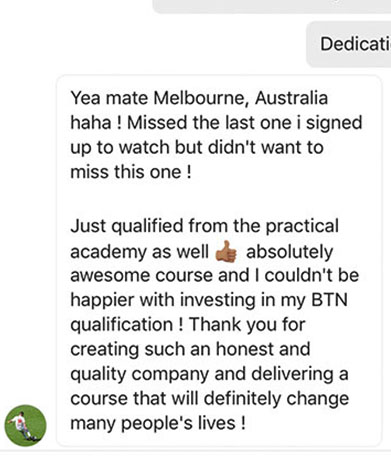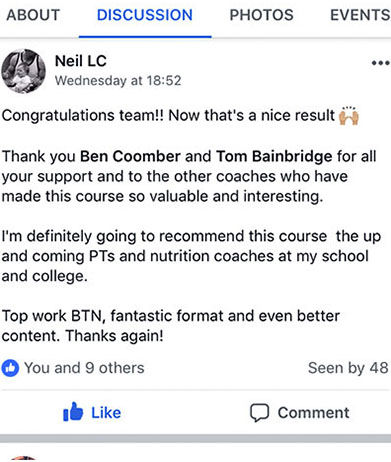 Practical Academy 2019
Ben Coomber introduces the BTN Academy Practical Academy