The truth about diary: Is the white stuff worth it?
Get our nutrition neport and learn the truth
Find out how dairy based foods affect gut health
See the relationship between dairy and bad skin
Understand the data surrounding dairy and cancer
Learn about dairy's influence over bodyfat gain and loss
Clear up the controversy: is dairy good or bad for bones?
Look at the issue of hormones in dairy, such as milk
Enter your email address and we'll send you our comprehensive 36 page report on dairy, never be confused about dairy again!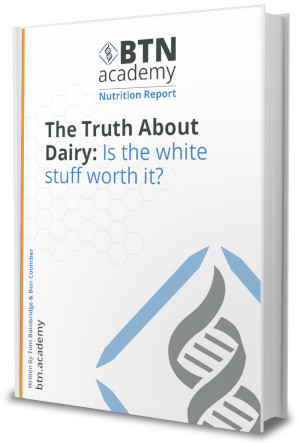 Who are we?
Ben Coomber
Tom Bainbridge
Hosts of the UK's #1 rated health and fitness podcast Ben Coomber Radio and head tutors at the BTN Academy we're here to empower you with evidence based, practically driven nutrition, health and fitness information so you can better yourselves and the client's you coach, or want to coach
Learn fact from fiction in health and fitness
Be empowered with real world, applicable knowledge
Get better results with yourself and clients
Learn nutrition from us, free. We've taught 1000s of people worldwide, worked with companies like O2 and Sky TV, and live and breath nutrition, health and fitness ourselves